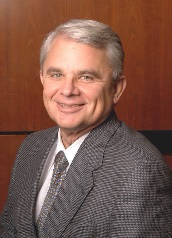 LARRY H. HOLLIER, MD
APPOINTED CHANCELLOR FEBRUARY 3, 2006
Dr. Larry H. Hollier is Chancellor of LSU Health Sciences Center at New Orleans, which includes six professional schools.
Dr. Hollier is a native of Crowley, La. and a LSU School of Medicine graduate. He served as Dean of the LSU School of Medicine from January 2004 through September 2007 and was Appointed Chancellor of the LSU Health Sciences Center in 2006. Before being named Dean, Dr. Hollier was President of the Mount Sinai Hospital in New York and has served as Professor of Surgery and Chairman of the Department of Surgery at the Mount Sinai School of Medicine for eight years.
Chronology
Six individuals have served as Permanent Chancellor of the Louisiana State University Medical Center since its present organizational structure was implemented in 1965.
The names of the former Chancellors and their period of chancellorship follow.
William Wesley Frye, PhD, MD (1956-1969)
William Huffman Stewart, MD. (1969-1974)
John Charles Finerty, PhD (1974) Acting
Allen Anthony Copping, DDS (1974-1985)
Donna Harrington Ryan, MD (1985) Acting
Perry Gardner Rigby, MD (1985-1994)
Mervin Lee Trail, MD (1994-2000)
Mary Ella Sanders, MD (2000-2002) Interim
John A. Rock, MD (2002-2005)
Administration
LARRY H. HOLLIER, MD
Chancellor
LESLIE L. CAPO, BA
Director of Information Services
CHRISTOPHER VIDRINE, MBA
Director of External Relations
JOSEPH M. MOERSCHBAECHER III, PhD
Vice Chancellor for Academic Affairs
Dean of the School of Graduate Studies
DERECK J. ROVARIS, PhD
Associate Vice Chancellor for Academic and Multicultural Affairs

REMI ALLEN
Director of International Services

WILLIAM BRYANT FAUST, IV, MAST
University Registrar

REYNALDO R. GONZALES, DVM
Director of Animal Care

PATRICK GORMAN, BS
Director of Financial Aid

PATRICK REED, MS
Director of Technology Management

KENNETH KRATZ, PhD
Director Office of Research Services

PERRY G. RIGBY, MD
Director of Health Care Systems

DEBORAH SIBLEY, MEd, MLS
Director of Libraries
FRANK OPELKA, MD
Vice Chancellor for Clinical Affairs
RONALD E. GARDNER, MPH
Vice Chancellor for Community, and Security Affairs
VACANT
Vice Chancellor for Administration and Finance
JOHN BALL, ME
Associate Vice Chancellor for Property and Facilities
ROBERT FAHEY, ME
Executive Director of Environmental Health and Safety
TERRY W. ULLRICH, MPA
Associate Vice Chancellor for Administration and Finance

BETTINA OWENS, MPA
Assistant Vice Chancellor for Information Technology

PATRICK LANDRY, BBA
Executive Director of Accounting Services

ROY CLAY, III, BS
Compliance Officer

BRENT D. HAROLD, MS
Director of Supply Chain Management

DUANE LABBE, MBA
Director of Human Resource Management
J. M. CAIRO, PhD
Dean of the School of Allied Health Professions

ELIZABETH T. H. FONTHAM, MPH, DrPH
Dean of the School of Public Health

HENRY GREMILLION, DDS
Dean of the School of Dentistry

STEVE NELSON, MD
Dean of the School of Medicine

DEMETRIUS J. PORCHE, DNS
Dean of the School of Nursing